The Periodic Table for Content Marketing Part-Two
Today I will comment on part two of an outstanding infographic from Chris Lake @ Econsultancy. It is called "The Periodic Table of Content Marketing".  It is robust, yet simple and I will comment on each element of the table in a series of posts.
If you haven't already please read part 1 first.
The Periodic Table of Content Marketing – Areas
The table is divided into the following 8 areas I will review in this and the next 6 posts.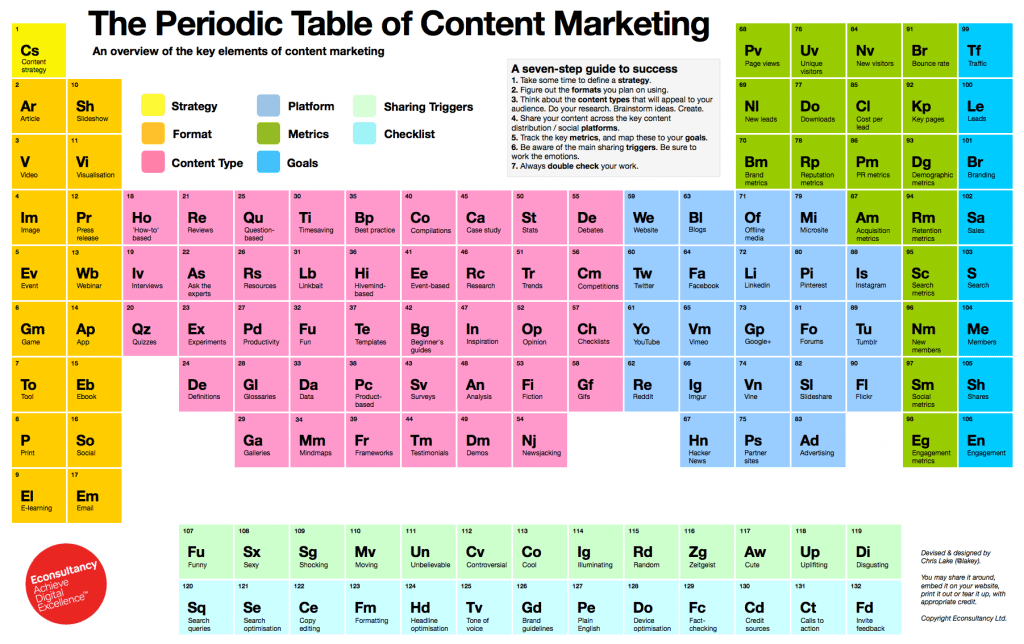 Today I want to zoom in and provide commentary directed towards the left-center of the periodic table, Content Types.
Content Types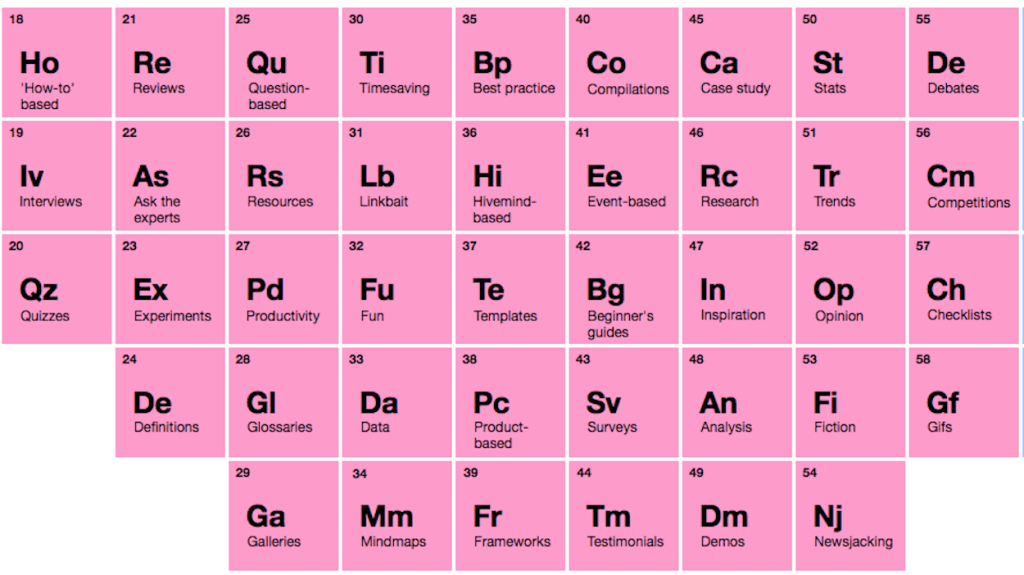 Content-type is the kind of information that a file contains.  This is the largest section of the Periodic Table of Content Marketing.  Therefore I will break it into three separate posts.  Let's jump right in:
18. "How-to" based – this content format resonates with the "do it yourself minded" (DIY).  The series "______ for Dummies has made many millions delivering this content type.  In an online environment, you can show and tell exactly what has to be done to those interested in DIY.  Many times you can establish yourself as the expert and readers will often find it is better to let you do it instead of trying to do it themselves.
 19. Interviews – this is a great format for either using internal subject-matter experts to demonstrate subject-matter brand leadership or engaging well-known external experts to strengthen your brand by association.
20. Quizzes – a great content type to facilitate engagement.  Sharing the results also promotes follow-up dialogue and a great value-added service to quiz takers.
21. Reviews – are very popular and valuable for prospective clients who are in the "bottom of the sales nurturing funnel".  Who better to comment on a product or service than a current customer.   it is important to understand that you give up a measure of control when you open yourself to reviews that can be critical.  It is important to monitor and follow-up on any issues that arise using this forum.  It is imperative that companies using this type of content make a commitment to quality products/services and customer service.
22. Ask the experts – are essentially reviews by individuals with deep subject-matter knowledgeable.  Their opinions are perceived to be more professional, less emotional, and unbiased by a single good or bad experience.  The expectation is that the experts will perform a more methodical analysis of the product/service.
23. Experiments – I prefer results of experiments as opposed to real-time unpredictable experiments.
 24. Definitions – with our fast-moving world there are many new terms and conditions that prospects and customers have questions about.  Providing definitions for the multitude of terms provides great and valued content
 25. Question-based – frequently asked questions(faq) are at the forefront of this content type.    Faqs are great for customers, prospective customers, and search engine optimization.
26.  Resources – a compilation of expertise alongside your internal content adds value for customers and prospects.  Providing resources demonstrates an organization's commitment to helping solve problems and provide service.
27. Productivity – information designed to help organizations/individuals be more productive, particularly by using the producer's products and or services is the type of content that helps companies establish relationships before actually selling products or services.
28. Glossary – focused on terms associated with a firm's products/services and very similar to Definitions.
29. Galleries – a series of pictures, particularly featuring the product/service solving a need, is a very powerful content type.  Many studies highlight the fact that pictures substantially increase engagement.
30. Timesaving – time is money and anything that helps customers and prospects save time will increase their affinity towards the service/product provider.
31. Link bait – is content on your website that other sites link to because they want to, not because you ask them to.  Great content always serves as link bait.  Breaking news is the link bait of timeliness. Widgets and gadgets make great link bait in that they provide a great deal of use and/or value to others on the web. Quizzes and games are great link baiting avenues to explore.

In my next post, I will comment on the second group of Content Types.
What do you think?   If you haven't already done so please click in the space for Sharing Your Expertise and select "Notify me of new posts via email".