The Periodic Table of Content Marketing – Elements Commentary – Part 1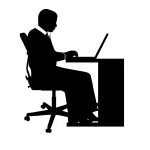 Content Marketing – Defined
I am of the opinion that content marketing is central to the success of modern inbound marketing. According to Wikipedia, content marketing is "any marketing that involves the creation and sharing of media and publishing content in order to acquire and retain customers."  That is the short definition.  Today I came across an outstanding infographic from Chris Lake @ Econsultancy. It is called the Periodic Table of Content Marketing.  it is robust, yet simple and I would like to comment on each element of the table in a series of posts.
The Periodic Table of Content Marketing – Areas
The table is divided into the following 8 areas I will review in this and the next 6 posts.
Strategy – Creating an overarching marketing strategy as well as a content strategy that is mapped to the achievement of your short-term and long-term goals.
Format – There are many ways to deliver content from email to video and many formats in between.  Oftentimes it is also smart to use multiple formats for one piece of content.
Content-Type – These are based types of content from to-do's to case studies to survey results.  Again, sometimes you can use multiple content types for a single piece of  content
Content Distribution Platforms – Examples of these include your website, social sites, and advertising.  Anything that helps spread your content is considered a distribution platform.
Metrics – These are key to understanding what is working and what needs refinement.  You can't manage what you can't measure.
Goals – All content should support your primary business goals included in your marketing strategy, whether it's to generate leads, awareness, or sales.
Sharing Triggers – There are emotional drivers behind sharing, and outstanding content creates a feeling that moves people to share.
Checklist – Content represents your brand and it is important that it is error-free and optimized for search,  social, and aligned with your business goals.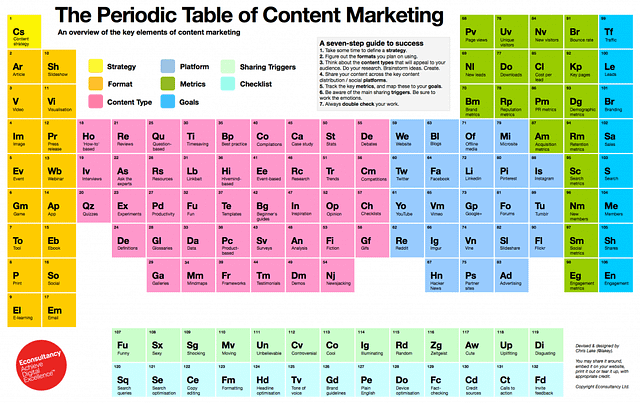 Today I want to zoom in and provide commentary directed towards the left side of the periodic table, Content Strategy, and Format.

Content Strategy
This is number one in the periodic table for good reason.  Everything you do in marketing and business should emanate from your business goals and objectives through your marketing strategy and content strategy.  Your content strategy should include an explicit understanding of key buyer personas and their associated traits, pain points, needs, and wants.
The strategy should envision what each persona will need in each of the three major areas of the lead nurturing funnel (Top of the Funnel, Middle of the Funnel, Bottom of the Funnel).  The strategy should provide each buyer persona with content that will facilitate absorbing your message (using the correct format, content types, and distribution platforms) and leading them along the lead nurturing funnel towards a successful relationship.
A content calendar should be prepared to account for the seasonality and sequencing of messages.  Devising A/B testing should be an integral part of the content strategy.  Over time the content strategy should be adjusted based on performance metrics compared to the plan.
 Content Format
Content formats should be widely tested.  It is not always obvious what content will work for a given product/service.  Some products/services lend themselves to printed words while others will do the trick using video or images.  The format can be mixed for various stages of the nurturing funnel and sometimes multiple formats can be used in one piece of content.
2. Article – Articles give content providers the space to expound on a subject to educate, entertain, and establish expertise.  Articles can be short or long and can easily include other formats.  Articles may be the most used type of content for marketing
3.  Video/11. Visualization – With the advent of YouTube, Vimeo, and others there are well-received channels marketers use to produce and distribute content.  Video gives a good storyteller an opportunity to appeal to those whose preference is to consume information visually.  With video, you can both show and tell.
4. Image – Online it is true that a picture is worth a thousand words especially if it is an infographic.
5. Events – Events are powerful content formats because attendees are a captive audience and their presence indicates a strong interest in the subject matter.
6.  Game/7. Tool – Incorporating content into a game is an effective tool for select content because it can be entertaining.  However, it must be creative, appropriate for the audience, and convey a clear message that resonates outside of the game.
8.  Print – Direct mail and print advertising are still very viable places to distribute content if the target audiences are carefully selected and marketing best practices are used.  Consumers still open the mail and read newspapers and magazines.
9. E-learning – Those preferring e-learning have to be properly motivated to consume information online.  It is more of a middle of the funnel format best for those who have a known need.  It is great for educational and entertaining content to help consumers solve their needs.
10.  Slideshow – Slideshows work well because you can combine both images and words in compelling ways.  Creative marketers can control the pace, create a sense of anticipation, and increase entertainment and engagement using slideshow transitions.
12. Press Release – A well-crafted press release is a great way to get out certain content messages cost-effectively to a wide audience.  If done well it can be picked up and lead to follow-up exposure for your brand from targeted news outlets.
13. Webinar – With Webinars you get an opportunity to promote using a variety of platforms to establish expectations and relationships before and after the webinar.  Webinar attendees like event attendees demonstrate their strong interest in the subject matter by their attendance.  You can establish your expertise or sponsor an associated product/service expert and gain expertise "cred" by association.
14.  Apps – Developing apps can be quite costly.  However, if you can develop an app that your targeted consumers hold in high regard you can cement your status and expertise in your category.
15. Ebook – Electronic books designed specifically for computer devices enable a marketer to provide in-depth expertise to targeted audiences.
16.  Social  – Social media is a cost-effective way to spread your content that can solve consumer product and service needs.  However, best practices marketing must be used or your reputation can suffer greatly.  Additionally, it is important to be selective in the social networks you use.  Creating and managing strong social networks can be time-consuming.
17.  Email – For current customers and prospective customers, who have opted-in to your list, email is a very good format for content marketing.  It is inexpensive, easily trackable and if using marketing best practices it remains one of the greatest formats for getting a great ROI on your marketing.
Next week I will comment on Content Types.
What do you think?   If you haven't already done so please click in the space for Sharing Your Expertise and select "Notify me of new posts via email".